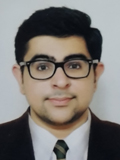 Dr. Manit Arora
Department of Orthopaedic
Associate lecturer
University of New South Wales and University of New England
Australia
Biography
Dr.Manit Arorais a conjoint Associate lecturer at University of New South Wales and University of New England, Australia.
He has completed his B.Med Science and MBBS with Honours, and has done a Masterís of Science in Surgery, Diploma in Anatomy and Master of Surgery Orthopaedics.
He is particularly interested in shoulder and knee arthroscopy and sports medicine and was recently selected as the youngest ever Young Ambassador for APOA 2014. He has over 30 publications to his credit and has presented widely in both national and international conferences.
Dr.Manit Arora presented posters and podium presentation in Orthopaedic Association Annual Meetings.
Research Interest
Research Supervisor for undergraduate medical students in University of Queensland and PDDYP Hospital and Research centre in India. Established Gastroenterology Research Unit at Liverpool Hospital and Recipient of ICMR research grants for 2 studies
Information Links
Enquiry
Give us some quick information and we'll point you in the right direction.