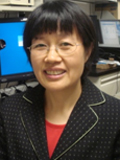 Dr.XueqinGao
Department of Orthopaedic Surgery
University of Texas Health Science Center
Houston,Texas
USA

Biography
Dr.XueqinGaois Assistant Professor(Research Track) in the Department of Orthopaedic Surgery, Medical School, University of Texas Health Science Center at Houston, Houston,Texas.
Dr.XueqinGaoreceived her Postdoctoral fellow from Medical College of Wisconsin, Milwaukee, Wisconsin on cranial and facial nerves and Postdoctoral Associate fromDr. Johnny Huard Lab (Stem Cell Research center), Department of Orthopaedic Surgery, University of Pittsburgh, Pittsburgh, Pennsylvania.
She holds memberships in professional and scientific societies like American Society of Bone and Mineral Research, Orthopaedic Research Society, etc. and also received honors and awards for the research in orthopaedics.
Dr.XueqinGao is an active speaker and presented her research in national and international conferences and she also has many publications in various journals. She also participates in the peer-review process and serves as Editorial board member.
Research Interest
Bone and cartilage
Cartilage
Osteoporosis
Osteoarthritis
Information Links
Enquiry
Give us some quick information and we'll point you in the right direction.