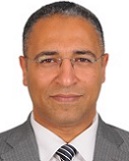 Dr. Tamer A.Gheita
Rheumatology and Clinical Immunology
Kasr Al-Ainy School of Medicine
Cairo University
Egypt

Biography
Dr. Tamer A.Gheita is a professor of Rheumatology and Clinical Immunology at Kasr Al-Ainy School of Medicine, Cairo University, Egypt. He graduated from the Faculty of Medicine, Cairo University (Excellent with grade of Honors), attained the M.Sc. degree with an excellent grade and successfully received his MD degree. He served with honor as a member of the medical technical committee establishing the children's cancer hospital in Cairo. He is a member of many specialized societies in the field of Rheumatology, Immunology, Osteoporosis and Orthopedics.
He is a distinguished Rheumatology consultant at many worldwide hospitals with Joint Commission International (JCI) accreditation. He has authored 100+ publications in top ranked international journals; co-editor of 10+ scientific books internationally published mostly in the field of Rheumatology. He is a member of the Committee on Publication Ethics, member of the Eastern Mediterranean Association of Medical Editors, member of the Asian Council of Science Editors, Editor in-Chief of the Egyptian Rheumatologist, Editorial Board Member of 25 International Journals of Rheumatic Diseases.
Research Interest
Rheumatology
Oral and Dental hygiene and diseases in rheumatic diseases patients.
Sjogren's syndrome
Temporomandibular joint (TMJ) disorders
Information Links
Enquiry
Give us some quick information and we'll point you in the right direction.