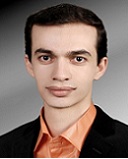 Dr.Mehdi Razavi
Institute of Materials and Manufacturing
Brunel University London
London UK

Biography
Dr. Mehdi Razavi is a Postdoctoral Research Fellow in Biomaterials in Brunel University London,UK and he is also Working as Adjunct faculty member in Dental Materials Research Center at Isfahan University of Medical Sciences. He Pursed his Doctoral Studies in Biomaterials, Isfahan University of Technology-Isfahan University of Medical Sciences, Iran.
Earlier, he was a Research Scholar in Biomaterials and Tissue Engineering, Oklahoma State University, USA. He had a Honor of Funding for a Research Scholarship program from Oklahoma State University, USA. His Research Projects are Fabrication and characterization of magnesium-fluorapatite metal matrix nanocomposite for biomedical applications, In situ preparation of chitosan/hydroxyapatite/magnetite nanocomposite for bone tissue engineering application etc..
Research Interest
Biomaterials
Tissue Engineering and Regenerative Medicine
3D bioscaffolds design
In vitro studies
In vivo animal models
Cell Biology
Surface and Biointerface science
Trauma Locking Plating Systems
Biomechanical studies
Biodegradable materials

Information Links
Enquiry
Give us some quick information and we'll point you in the right direction.