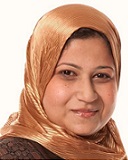 Dr.Hadeer Ibrahim Mohamed
Biophysics group in the Department of Physics
Ain Shams Universty
Egypt

Biography
Dr.Hadeer Ibrahim is currently working as Faculty Member in Biophysics group in the Department of Physics,Ain Shams Universty in Cairo, Egypt. He pursued his Ph.D. in Biophysics, Physics Department, Ain Shams university (Cairo, Egypt) in collabo-ration with IPCMS, Strasbourg university (Strasbourg, France) on the topic "Compound coatings of Ca-phosphates and/ titanate on metallic implants for medical ap-plications".
Dr.Hadeer Ibrahim is a member of the organizing committee of scientific conferences and also attended many conferences and workshops and presented Posters related to Biophysics.
He has many publications in the National and International journals related to his research interest. Also doctoral and post-graduation projects are carried out under his supervision.
Research Interest:
Medical biophysics
Laser applications in Orthopaedics
Electron Microscopy in Orthopaedics
Nanotechnology in Orthopaedics
Information Links
Enquiry
Give us some quick information and we'll point you in the right direction.