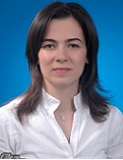 Dr. Karabicak Gul Oznur
Department of Orthopedics
Hacettepe University
TURKEY

Biography
Dr. Karabicak, Gul Oznur is currently working as Faculty of Health Sciences Phsiotherapy and Rehabilitation Unit from university of Baskent in Ankara-Turkey
She holds his PHD in Physical Therapy Institute of Health Sciences Prosthetics Orthotics and Biomechanics from University of Hacettepe.
She received first prize for best poster presentation. She also received many honours. She published many national and international articles.
Research Interest
Orthopaedic rehabilitation
Injury mechanism
Exercise
Biomechanics
Postural control
Balance
Posture
Information Links
Enquiry
Give us some quick information and we'll point you in the right direction.