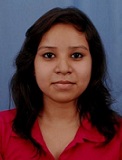 Dr. Deepti Rana
Department of Nano Technology
Christian Medical College
Vellore, India

Biography
Deepti Rana is currently working as stem cells nanotechnologist at Centre for Stem Cell Research, Christian Medical College Campus, Vellore, India. She is pursuing her research work in the field of Stem Cell Nanotechnology.
Deepti has published her research work in several peer-review journals, book chapters and conferences. She has received the best paper awards from the Journal of Biomaterials and Tissue Engineering for year 2014 and 2015. She is a reviewer and Editorial board member of several eminent journals such as Journal of Biomaterials and Tissue Engineering, Journal of Nanoscience & Nanotechnology, Journal of Bio Nanoscience and Global Journal of Nano medicine.
Research Interest
Bone Marrow
Stem Cell Nanotechnology
Tissue Engineering
Nanomedicine
Stem Cells Culture
Stem Cell Biology

Information Links
Enquiry
Give us some quick information and we'll point you in the right direction.