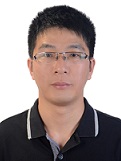 Dr. Dasheng Lin
Department of Orthopedics
Xiamen University
Zhangzhou, China

Biography
Dr. Dasheng Lin is currently working in Orthopaedic Center of People's Liberation Army at the Affiliated Southeast Hospital of Xiamen University, Zhangzhou, China and also affiliated to Experimental Surgery and Regenerative Medicine, Department of Surgery, Ludwig-Maximilians-University (LMU), Munich, Germany.
Dr. Dasheng Lin has patents on: New lantern-shaped, loaded auto-graft screw and Hollow-bone-graft dynamic hip screw. He delivered Invited Lectures in various conferences at National & International level. Dasheng Lin has published many articles in National and International journals related to Orthopedics and Surgery. Also he received many awards for his research work.
Research Interest
Osteoporosis
Autophagy
Osteocyte
Tendon
Tenomodulin
Information Links
Enquiry
Give us some quick information and we'll point you in the right direction.