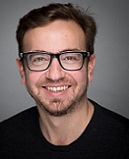 Dr. Arnaud Clave
Department of Orthopaedics Surgery
University of Western Brittany School of Medicine
France

Biography
Dr. Arnaud Clavé is Assistant Professor in Orthopaedics Surgery at the University Of Western Brittany School Of Medicine and a Consultant in Traumatology and Orthopaedic Surgery at Brest University Hospital in France. His clinical expertise includes lower limb arthroplasty Computer-Assisted Orthopaedic Surgery and complex/revision total joint reconstructions.
He completd his Graduation from the University of Nice Sophia-Antipolis School of Medicine France and completed his residency in orthopaedic surgery at Brest University Hospital and in the Versailles Orthopaedic Centre in Paris University Hospital, France.
Research Interest
His research interests include the study of lower limb arthroplasty procedure, knee kinematic, Computer-Assisted Orthopaedic Surgery and robotic surgical procedure, enhanced recovery program and surgical simulation.
Information Links
Enquiry
Give us some quick information and we'll point you in the right direction.