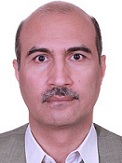 Dr. Sanaullah Jan
Department of Vitreoretinal Ophthalmology
Khyber Girls Medical College
Hayatabad Medical Complex, Peshawar, Pakistan


Biography
Dr. Sanaullah Jan is currently serving as Professor of Vitreoretinal ophthalmology in Khyber Girls Medical College, Hayatabad Medical College, Peshawar, Pakistan. He is also a faculty member of Pakistan Institute of Community Ophthalmology. He is accredited supervisor by College of Physicians and Surgeons, Pakistan for fellowship in Vitreoretinal and general ophthalmology. He was awarded "Lateef Chaudhry Gold Medal 2013", for significant contributions to Vitreoretinal Ophthalmology in Pakistan, by Ophthalmological Society of Pakistan.
Dr. Sanaullah Jan has attended 64 ophthalmic congresses and professionally related workshops. He has many scientific research presentations to his credit. He has published numerous research articles in various scientific journals regarding diabetic retinopathy, retinal venous occlusions, scleral buckling, ocular trauma, vitreoretinal interventions, glaucoma and cataract surgery. He is associate editor of open access journal of ophthalmology. Presently he is president elect of ophthalmological society of Pakistan, Khyber Pakhtunkhwa.
Research Interest
Diabetic retinopathy
Retinal venous occlusions
Scleral buckling
Vitreoretina
Ocular trauma
Cataract surgery
Glaucoma
Information Links
Enquiry
Give us some quick information and we'll point you in the right direction.