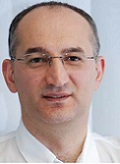 Dr. Saadettin Sel
Department of Opthalmology
Halle-wittenberg university
Germany


Biography
Dr. Saadettin Sel is currently working as an ophthalmic surgeon. He is specialist in Corneal and vitreoretinal. Sel Has an extensive experience in a wide variety of other eye conditions, including cataracts, uveitis, glaucoma and trauma.
Sel has published more than 100 scientific articles in peer-reviewed journals and book chapters. He holds a patent on a intraocular lens. He is an active Reviewer for several peer-reviewed scientific Journals.
Research Interest
Corneal Surgery
Development of Keratoprosthesis
Nanotechnology
Treatment of Corneal Ulcers
Vitreoretinal Surgery
Eye Development
Retinogenesis
Molecular Biology of the Eye
Information Links
Enquiry
Give us some quick information and we'll point you in the right direction.