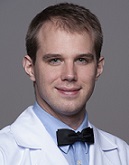 Dr. Kiss Huba
Semmelweis University
Budapest, Hungary


Biography
Dr. Huba Kiss is Ophthalmologist at Semmelweis University, Budapest, Hungary. He completed his doctoral studies in resident of ophthalmology and PhD studies in Semmelweis University. His Research and Professional Experience in Semmelweis University, Department of Ophthalmology and also participation in ophthalmology clinical trials at the Semmelweis University, Budapest, Hungary.
His Awards are the best lecture of young ophthalmologistís award, Hungarian Society of Ophthalmology, Pro Scientia Golden Medal, Special award of Zoltan Magyary Public Foundation for Higher Education and MestyŠn-award, University of Pecs.
Research Interest
Eyelid surgeries
Penetrating keratoplasties
Cataract surgeries
Pan retinal photocoagulations
Fluorescein angiographies
Information Links
Enquiry
Give us some quick information and we'll point you in the right direction.