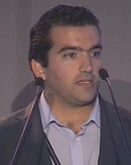 Dr. Ivo Filipe Gama
Hospital Santa Maria
Lisbon, Portugal


Biography
Dr.Ivo Filipe Gama is currently a young ophthalmologist working in Hospital Santa Maria Lisbon, Portugal. He finished his medical formation and acquired the MD degree, general medicine residency, he started surgical training in Plastic and Reconstructive Surgery Department and Burns Unit of Hospital São João, Oporto, Portugal. He started Ophthalmology residency in Hospital Santa Maria in Lisbon academic medical center, Lisbon, Portugal.
He is working in ophthalmological evaluation protocol of patients submitted to hematopoietic stem cell transplantation in his institution, in collaboration with the Cornea Clinic of the Ophthalmology Department and also with the Hematology and Oncology Departments of Hospital Santa Maria.
He has participated in several national and international congresses. He was an author of several communications in national and international Ophthalmological congresses.
Research Interest
Ocular Graft versus Host disease
Ophthalmological evaluation
Cornea and ocular surface
Glaucoma
Cataract Surgery
Medical and Surgical Retina and Oculoplastics.
Information Links
Enquiry
Give us some quick information and we'll point you in the right direction.