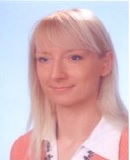 Dr. Ewa Brzozowska
Department of Immunology and Infection Diseases
Institute of Immunology and Experimental Therapy
Wroclaw
Poland


Biography
Ewa Brzozowska received a M.Sc. degree in biotechnology in 2002 from the University of Wroclaw, Poland and Ph.D. degree in biology in 2009 from the Institute of Immunology and Experimental Therapy Polish Academy of Science (IIET, PAS), Wroclaw, Poland. Since 2014, she has been an Assistant Professor in the IIET.
Her research interest include bacteriophages and bacteriophage proteins as antibacterial agents and as tools for bacteria detection, bacteriophage- bacteria interaction mechanisms and antibacterial proteins structure determination.
Research Interest
Bacteriophage
Microbiology
Biochemistry
Molecular biology
Biosensors
Probiotics
Proteins
Information Links
Enquiry
Give us some quick information and we'll point you in the right direction.