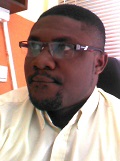 Dr. Andrews Nartey
Department of Optometry
St. Thomas Eye Hospital
Ghana


Biography
Andrews Nartey is currently working at the St. Thomas Eye Hospital in Ghana. He has completed, with distinction, a Doctor of Optometry (OD) degree from the Department of Optometry and Visual Science at Kwame Nkrumah University of Science and Technology (KNUST), Ghana. As a budding scholar with a strong penchant for vision science and public health research, he is looking forward to postgraduate studies. He has received many awards and honors like United World College (UWC) scholarship award, National Essay Writing Competition awards, Debates and Intellectual Challenge awards, amongst others.
Nartey has published many articles nationally and internationally in peer reviewed journals. He is serving as an Editorial Board member and periodical reviewer for many journals. He is a member of many professional associations like Ghana Optometric Association, Allied Health Professionals Council, Ghana, Ghana Association of Science Teachers, etc. Andrews Nartey has served as Chairperson of a number of committees such as Trade and Technology Fair, Outreach and Judicial Committees of the Optometry Students' Association of Ghana, KNUST. He has participated in and attended many conferences and workshops.
Research Interest
Refractive Errors and Their Management
Pathogenesis of Cataract and Glaucoma
Exploring Novel Ways to Manage Cataract and Glaucoma
Public Health
Information Links
Enquiry
Give us some quick information and we'll point you in the right direction.