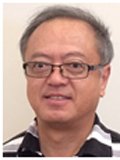 Dr. Ichiro Maruyama
Okinawa Institute of Science and Technology
Graduate University
Okinawa, JAPAN

Biography
Maruyama Ichiro is a Versatile Academician in Medical sciences presently working as a Professor in Okinawa Institute of Science and Technology Graduate University, Okinawa, Japan. His research and professional record includes as a visiting professor,senior investigator in medical schools/universities in Japan and in USA. He also serves as a supervisor, senior group leader in few universities in Singapore and scientific staff member with Grade I and Grade II in Medical Research Council Laboratory of Molecular Biology, Cambridge Universiy, UK and Postdoctoral Fellow (JSPS) in the Department of Microbial Genetics, Japan.
He has Professional Organization Membership in many organizations in Japan also is an Invitee for Lectures and Seminars in various renowned Universities and Annual meetings held in Japan, Singapore, UK and USA for topics that include "Molecular mechanism of transmembrane signaling by cell surface receptors" and "Observing a single molecule on the cell surface". He is an extensive contributor to the Public Domains like "cDNA sequence encoding the Caenorhabditiselegans GCY-14","Lambda foo vector. (1995). ATCC (No.: 87099)", Caenorhabditiselegans myo-1/2/3 gene sequence. (1988) etc.
Information Links
Enquiry
Give us some quick information and we'll point you in the right direction.