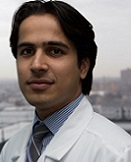 Dr. Vineet Punia
Clinical Neurophysiology
Cleveland Clinic
Cleveland, Ohio

Biography
Dr. Vineet Punia is currently working as Chief Fellow in Clinical Neurophysiology, EEG and Epilepsy Cleveland Clinic, Cleveland, Ohio. Earlier he worked as Research Assistant, Department of Neuroscience, College of Staten Island, NY and as Research Associate, Department of Neuroradiology, Memorial Sloan- Kettering Cancer Center (MSKCC), NY.
Dr. Vineet is a certified Neurophysiologist from American Board of Psychiatry and Neurology and Educational Commission for Foreign Medical Graduate. He received honors and awards for his research in Neurology and holds the honorary membership in various organisations and committees.
Dr. Vineet serves as Editorial board of journals related to neurology, his research articles are published in most renowned journals related to neurology.
Research Interest
Neurophysiology
Epilepsy
Neuroradiology
Information Links
Enquiry
Give us some quick information and we'll point you in the right direction.