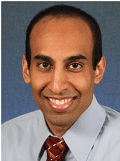 Dr. Vilaas Shetty
Department of Radiology
Saint Louis University
USA

Biography
Dr. Vilaas Shetty is a neuroradiologist and assistant professor in the Department of Radiology in Saint Louis University School of Medicine in St. Louis, USA. He earned his medical degree from University of Texas Southwestern Medical School in Dallas, USA, and completed a radiology residency and a diagnostic neuroradiology fellowship at the Mallinckrodt Institute of Radiology at Washington University School of Medicine in St. Louis, USA.
His clinical expertise is in adult and pediatric diagnostic neuroradiology, including fetal MRI and brachial//lumbosacral plexus imaging. He has received several awards for excellence in teaching and is active in the Radiologic Society of North America (RSNA), American College of Radiology (ACR), and American Society of Emergency Radiology. Dr. Shetty currently serves on the ACR Appropriateness Criteria Committee and the RSNA Educational Exhibits Committee.
Research Interest
Adult Neuroimaging
Pediatric Neuroimaging
Fetal MRI
Neuro Trauma
Education
Information Links
Enquiry
Give us some quick information and we'll point you in the right direction.