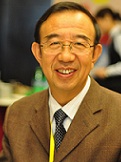 Dr. Liu Zhenhuan
Department of child health care
University of Chinese Medicine
China


Biography
Dr. Liu Zhenhuan is working as Chief Specialist, Assistant Dean, Professor, Chief Physician and PhD Supervisor in Nanhai Affiliated Maternity and Child Healthcare Hospital of Guangzhou University of Chinese Medicine. Liu has worked on Clinical Integrative Rehabilitation of Child Neurology for 35 years
He is a member of World Institute of Neurological Rehabilitation and also Standing Committee Member of Pediatrics Specialized Committee of World Federation of Chinese Medicine Society. He is a Life member of Asian Oceanian Child Neurology Association. He was awarded the Prize of Outstanding Contribution of World Traditional Medicine and Golden Needle Prize of World Traditional Medicine
He is an Editorial Board Members of Magazines of Chinese Acupuncture and Moxibustion, Chinese Journal of Microcirculation, Chinese Journal of Child Health Care, Journal of Pediatrics of Chinese Medicine. He has published more than 280 papers in journals domestics or oversea, among which there are 21 publishing aboard and 8 was recorded in SCI and ISTP. He also published 14 books.
Research Interest
Hemorheology
Microcirculation
Child Mental Retardation
Vibroacoustic Therapy
Chinese Medicine
Information Links
Enquiry
Give us some quick information and we'll point you in the right direction.