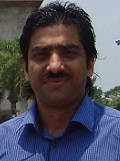 Dr. Devender Bhalla
Faculty of Medicine
University of Limoges
France

Biography
Dr. Devender Bhalla is currently working as Faculty of Medicine, University of Limoges, France. He also holds other positions at INSERM Limoges, Limoges, France, Nepal Interest Group of epilepsy and Neurology, Kathmandu, Nepal, Bhutan Society of Neurology and epilepsy, Thimphu, Bhutan and Epilepsy Association of Iran, Tehran, Iran.
Devender Bhalla is also involved in managing patient-oriented research initiatives and non-research allied activities on various subjects in tropical. A post of treasurer at the Task Force on epilepsy is also held. In Iran, for instance, a first-ever epilepsy registry is in the process of being developed and administered with already more than 4800. Other ongoing initiatives are to implement an independent international interest group on plagiarism in tropical Neurology with a view to develop this into an International Task Force, and Tropical Neurology Register.
Research Interest
Epilepsy
Neurology
Information Links
Enquiry
Give us some quick information and we'll point you in the right direction.