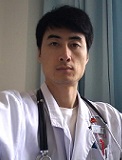 Dr.Chengguang Song
Department of Neurology
Benxi Central Hospital of China Medical University
China


Biography
Dr. Chengguang Song serves as Master Instructor of Jinzhou Medical University, Youth Committee member of Society for Neuroscience and Neurology,Chinese Research Hospital Association(SNN/CRHA), Youth Committee member of Neurology Branch of Chinese Geriatrics Society. Member of China Association Against Epilepsy(CAAE)? Liaoning Province Association Against Epilepsy(LAAE)? Chinese Stroke Association? Vestibular Disorders Committee of China Medicine Education Association(CMEA-VEDC)? Committee member of Neurology Specialist Branch of Benxi Medical Association etc.
Dr.Chengguang Song has Publications in various Nations and International journals. And also serves as Editorial Board member and/or Reviewer of Chinese Medicine Guides? Molecular Neurobiology, etc. Awarded The first prize and The third prize of Liaoning Province Natural Science Academic Achievement Award, Benxi Science and Technology Progress Award second prize. Project team member of The National Natural Science Foundation of China and The Natural Science Foundation of Liaoning Province.
Research Interest
Epilepsy
Cerebrovascular Disease
Neurogenesis
Neuroendocrinology
Information Links
Enquiry
Give us some quick information and we'll point you in the right direction.