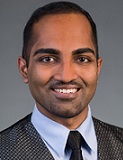 Dr. Anand Venkatraman
Department of Neurology
University of Alabama at Birmingham
USA
Biography
Dr. Anand Venkatraman is a Resident Physician in Department of Neurology in University of Alabama at Birmingham, USA. He completed his Medical studies from All India Institute of Medical Sciences, New Delhi, India
He received Resident award for excellence in Research and AIIM Sonians of America scholarship. He has many publications regarding The Impact of 1 Month of Intensive Training on a Resident's EEG Interpretation Skills, Seasonality in acute ischemic stroke related hospitalizations and case fatality rate in the United States and Cardiogenic shock from atypical Takotsubo cardiomyopathy attributed to acute disseminated encephalomyelitis lesion involving the medulla.
Research Interest
Neurology, Neurophysiology, Basic neuroscience
Stroke - epidemiology, outcomes
Physiology of atherosclerosis, epidemiology of vascular disease
Seizures - physiology, management
Neurocritical care
Global health - Healthcare communication
Vaccination, Autism, epidemics
Information Links
Enquiry
Give us some quick information and we'll point you in the right direction.