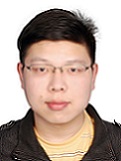 Dr. Zhuoran Zhang
Department of Immuno-Oncology
City of Hope Hospital Beckman Research Institute
Duarte, California
Biography
Dr.Zhuoran Zhang is currently a post-doctoral fellow at City of Hope Hospital Beckman Research Institute in Duarte, CA. He holds Ph.D in Microbiology & Immunology from the University of Illinois at Chicago. His research works are focusing on treatment of B cell lymphoma using cell-selective antisense oligonucleotide NF-kB inhibitor. He worked on tuberculosis immunotherapy and poliovirus antiviral discovery during his thesis studies.
Dr.Zhuoran Zhang has been awarded CCTS Pre-doctoral Education in Clinical and Translational Science Fellowship, Hui-Chun Chin & Tsung-Dao Lee Undergraduate Research Endowment and Outstanding Student of the Year. He published articles in national and international journals.
Research interests
Cancer immunology
Antisense oligonucleotide therapy
Autoimmune disorders
microRNA
Information Links
Enquiry
Give us some quick information and we'll guide you in the right direction.