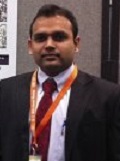 Dr. Vivek Patel
Department of Pediatrics
University of Tennessee Health Science Center
United States
Biography
Dr. Vivek Patel is currently working at University of Tennessee Health Science Center United States. He holds Ph.D in Toxicology at St. John's University, New York. He completed graduation in toxicology at St. John's University, New York.
Dr. Vivek Patel has authoured many peer reviewed articles. His research work was recognized and highlighted in 'Papers by Junior Investigators' column in a peer-reviewed journal. In addition, his research article was also awarded the Best Paper of the Year Award by the Immunotoxicology Specialty Section at Society of Toxicology annual meeting 2013. He is the recipient of several prizes and awards. He is a member of professional memberships including Society of Toxicology.
Research interests:
Cystic Fibrosis
Vagus Anti-Inflammatory Pathway
Diabetes
Microgravity
Toxicology
Immunology
Pharmaceutical Sciences
Immunotoxicology
Information Links
Enquiry
Give us some quick information and we'll guide you in the right direction.