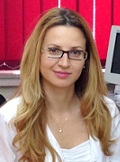 Dr. Tsvetelina Velikova
Department of Immunology
University Hospital Lozenetz
Bulgaria
Biography
Dr.Tsvetelina Velikova is currently working as Specialist of Clinical Immunology in University Hospital Lozenetz Bulgaria. She holds her masterís degree in Health Policy and Management from Medical University of Sofia Bulgaria. She done PhD Student in Clinical Laboratory and Clinical Immunology Medical University of Sofia, Bulgaria.
Dr.Tsvetelina Velikova is also a member of European Academy of Allergy and Clinical Immunology and World Medical Collaboration and Consultation Union. She published articles in national and international journals like Serological Update on Celiac Disease Diagnostics in Adults and Acta Medica Bulgarica.
Research interests
Immunology
Virology
Genetics
Diabetes
Information Links
Enquiry
Give us some quick information and we'll guide you in the right direction.