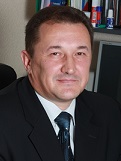 Dr. Sergey Sennikov
Laboratory of Molecular Immunology
Research Institute of Fundamental and Clinical Immunology (RIFCI)
Russia
Biography
Dr. Sergey Sennikov is currently working as Head of the Laboratory of Molecular Immunology at RIFCI in Russia. He is graduated in Medicine with a MD in Medical Biochemistry at Siberian State Medical University (Tomsk), a PhD degree in Medical sciences on Allergology and Immunology speciality in 1988 and a GrandPhD degree in Medical sciences with thesis "Cytokine-synthesizing activity of erythroid nucleated cells"in 2002 at RIFCI (Novosibirsk).
Dr. Sergey Sennikov is carrying out and leading researches in area of molecular biology, molecular and clinical immunology. Main scientific directions of his studies are alternative splicing and gene allele polymorphism of cytokines and their receptors, molecular-genetic regulation mechanisms of immune cells activation, proliferation and differentiation in health and immunopathological conditions and development of new immune correction methods based on immune cell biotechnology and genetically engineered approaches. In 2005 he was promoted to the rank of professor in Allergology and Immunology speciality. Over last 5 years he led and supervised more than 20 scientific federal projects. His additional professional activity include membership in: editorial board in a number of immunologic journals; Russian Society of Immunology;Russian Cytokine Society; academic council and dissertation commission D001.001.01 in Allergology and Immunology speciality in RIFCI.
Research interests:
Molecular medicine and biology
Alternative splicing
Allele polymorphism
Cytokines and cytokines receptors
Dendritic cells research and using Antigenic Specificity
Personalized medicine
Experimental Pathology
Transplantation and graft versus host disease
Information Links
Enquiry
Give us some quick information and we'll guide you in the right direction.