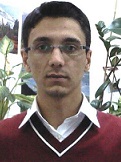 Dr. Recep Dokuyucu
Department of Physiology
Mustafa Kemal University
Turkey
Biography
Dr. Recep Dokuyucu currently working as Assistant Professor, Dr. in Department of Physiology, School of Medicine, Mustafa Kemal University, Turkey and also Editor of Medical Journal of Mustafa Kemal University. Earlier, he worked as Research Assistant in Physiology in Gaziantep University, Turkey.
He won Fatih College 09th International Environmental Project Olympiad Jury's Special Award in Istanbul. He is the member of Turkish Medical Association and Turkish Association of Physiological Sciences. He has many scientific publications related to Oxidative Status in Epileptic Children Using Carbamazepine, Systemic side effects of locally used oxymetazoline and Elevated nucleosome level and oxidative stress in schizophrenia patients.
Research interests:
Neurophysiology
Molecular Physiology
Ischemia-Reperfusion
Sports Physiology
Psycho-Physiology
Behavior and Learning
Motivation and Emotion
Endocrine and Urinary Physiology
Information Links
Enquiry
Give us some quick information and we'll guide you in the right direction.