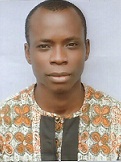 Dr. Obeagu Emmanuel Ifeanyi
Department of University Health Services
Michael Okpara University of Agriculture
Nigeria
Biography
Dr. Obeagu Emmanuel Ifeanyi is currently working in Diagnostic Laboratory Unit, Department of University Health Services, Michael Okpara University of Agriculture, Umudike, Abia State, Nigeria. He pursuing his Ph.D in Haematology and masters in Haematology in Imo State University. He has published more than 277 research and review papers in reputable international journals and editor and reviewer to more than 62 International Journals.
He received 2 international research awards in 2017 as World Academic Champion in Medicine and World Academic Champion in Diagnostics and 2 international Fellows and included among world 500 most influential public health experts on earth 2017 and included among Global Infectious Diseases Control Experts. He received 3 awards of certificate of Excellence in Reviewing in Biology, Microbiology and in Medicine by March, 2018.
Research interests
Heamtology
Blood Transfusion
Public Health
Biology
Microbiology
Information Links
Enquiry
Give us some quick information and we'll guide you in the right direction.