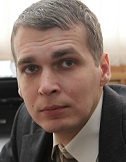 Dr. Andrey A. Zamyatnin
Institute of Molecular Medicine
Sechenov First Moscow State Medical University
Russia
Biography
Dr. Andrey A. Zamyatnin is currently working as Head of the Institute of Molecular Medicine at Sechenov First Moscow State Medical University, Russia. He also holds other honorary positions like Senior researcher in Belozersky Institute of Physico-Chemical Biology, Lomonosov Moscow State University, Head of the laboratory of molecular biology and biochemistry, Institute of Molecular Medicine, Sechenov First Moscow State Medical University, etc. He pursued his Doctoral studies in Virology.
Dr. Andrey A. Zamyatnin also undertakes Editorial activities like for the national and international journals related to Biochemistry and Microbiology and also published his research paper in renowned journals. He received awards and grants for his research work.
Research interests:
Programmed cell death
Personalized medicine
Molecular Markers
Biotechnology
Drug design
Novel drug candidates
Regenerative medicine
Information Links
Enquiry
Give us some quick information and we'll guide you in the right direction.