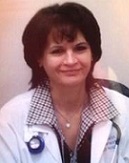 Dr. Maria Susana Maritato
Division of Infectious Diseases
Woodhull Medical Center
New York


Biography
Dr. Maria Susana Maritato presently attending in the Division of Infectious Diseases at Woodhull Medical Center, affiliated with NYU and part of the New York City Health and Hospital Corporation. She lecture Residents, Students and other Medical staff, she is an assistant professor for Saint George's University (from Grenada, West Indies) at Woodhull Medical Center and the Medical Core Clerkship Co- Director for Saint George's University at WMC.
She is a member of the Pharmacy and Therapeutics committee since 1999 and was the Chairperson of the Infection Control Committee till 2014.
Presently she is in charge of the Antibiotic Stewardship Program at Woodhull Medical Center and Chairperson of the Antibiotic Stewardship Committee.
Research Interest
Opportunistic Infections in HIV/AIDS.
Antibiotic Stewardship.
Antimicrobial Resistance sp. Clostridium Difficile associated infection and Multidrug Resistance bacterias sp. Pseudomonas Aeruginosa and ESBL Enterobacterias.
Tropical Infectious Diseases in Immigrants.
Information Links
Enquiry
Give us some quick information and we'll point you in the right direction.