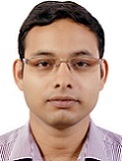 Dr. Gatikrushna Singh
Department of Veterinary and Biomedical Sciences
University of Minnesota
USA

Biography
Gatikrushna Singh is currently working as a Research Associate in the Department of Veterinary and Biomedical Sciences at University of Minnesota, USA. He also works as a Post-Doctoral Researcher in the Dynamic role of viral and cellular proteins in nucleation of HIV-1 RNPs.
Gatikrushna Singh his current research is about Relationship between stress coping styles and Emotional Intelligence. He has reviewed many manuscripts. He has published nationally and internationally. He is an editorial board member of renowned journals.
Research Interest
RNA-Protein Complex Characterization Construction of Genomic and CDNA Library in Yeast and Bacteria
Chromatin Immuno Precipitation (ChIP)
RNA Immunoprecipitation (RIP)
Real Time Quantitative PCR
Northern and Southern Blot Analysis
Site Directed Mutagenesis
Electro Mobility Sift Assay (EMSA)
Information Links
Enquiry
Give us some quick information and we'll guide you in the right direction.