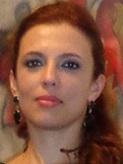 Dr. Eleonora C. V. Costa
Department of Psychology
Portuguese Catholic University
Portugal



Biography
Eleonora C. V. Costa, PhD, is a clinical psychologist and professor of Psychology in the Department of Psychology at the Faculty of Philosophy and Social Sciences of the Portuguese Catholic University, Portugal. With a PhD in Psychology, specialization in Health Psychology.
Her major work has been in the fields of psychosexual health promotion and HIV prevention in women, with several published works in peer-reviewed journals and multiple presentations at national and international conferences mostly about HIV prevention. She has extensive research experience in women's health in primary-care settings and coordinates a research project on the determinants of women's health in primary-care settings whose main focus are sexual risk behavior and correlated trauma and illness.
Research Interest
Trauma
Health risk
Sexual risk behaviour
Information Links
Enquiry
Give us some quick information and we'll point you in the right direction.