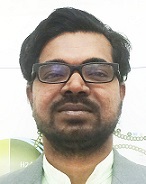 Dr. Biju Bhargavan
Department of Pharmacology and Experimental Neuroscience
University of Nebraska Medical Center
Nebraska,USA


Biography
Dr. Biju Bhargavan is currently working as Senior Research Associate in the Department of Pharmacology and Experimental Neuroscience, University of Nebraska Medical Center, Omaha, Nebraska.
Dr. Biju Bhargavan has more than ten years of research experience. He was honored with junior and senior level fellowships during his doctoral studies at the Central Drug Research Institute in Lucknow, India. During his time as a researcher he has published high quality research articles in national and international journals in a variety of fields. In addition, he has presented posters and lectures at both national and international seminars. His expertise lies in the fields of bone biology, cancer biology, lens biology, and HIV/AIDS.
Research Interest
Dr. Biju Bhargavan's current research involves elucidating the molecular mechanism involved in HIV-associated neurocognitive disorders. His work is focused on blood-brain barrier dysfunction during HIV infection, host-viral interactions, and epigenetic changes during HIV infection.
Information Links
Enquiry
Give us some quick information and we'll point you in the right direction.