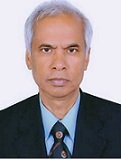 Dr. Madhu S. Malo
President & CEO
Atoxin Biotech, LLC
Worcester, MA,
USA


Biography
Dr. Madhu S. Malo, MD, PhD is currently working as a Visiting Professor of Biochemistry at MH Samorita Medical College, Dhaka, Bangladesh. Dr. Malo serves as the Chairman of Harvard Biotech BD Ltd., Dhaka, Bangladesh, and he is also the President and CEO of Atoxin Biotech LLC, Worcester, MA, USA.
Dr. Malo is a distinguished Molecular Biologist, and he was an Assistant Professor in the Department of Surgery, Massachusetts General Hospital, Harvard Medical School, Boston, MA, USA. Dr. Malo completed his medical education from Dhaka Medical College, Dhaka, Bangladesh, and received his PhD in Molecular Biology from the Department of Biochemistry, the University of Sydney, Sydney, Australia. He finished his postdoctoral studies from the Massachusetts Institute of Technology, Cambridge, MA, USA. Dr. Malo received many distinguished awards, and he also serves in the Editorial Boards of International Medical Device Journal (IMDJ), The Scientific World Journal/Genetics (SWJG), and the Recent Advances in Biology and Medicine (RABM).
Dr. Malo is actively pursuing his research in the following biomedical fields:
Type 2 Diabetes Mellitus
Atherosclerotic Heart disease
The Metabolic Syndrome
Intestinal Microbiotal Homeostasis
Information Links
Enquiry
Give us some quick information and we'll point you in the right direction.