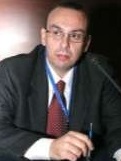 Dr. Ioannis Kyriazis
Department of Internal Medicine and Diabetes
KAT General Hospital
Greece

Biography
Dr. Ioannis Kyriazis is currently working as Director in the Department of Internal Medicine and Diabetes at Obesity Outpatient Clinic, KAT General Hospital, Athens, Greece.
Ioannis Kyriazis had participated and contributed to numerous International and National conferences, and also he has published valuable research. He is a member of many national and international medical associations. Kyriazis is a President of Hellenic Society for the study of Risk Factors in Vascular Diseases. He is contributing as Reviewer in many Journals.
Research interests:
Internal Medicine
Diabetes
Obesity
Atherosclerosis
Metabolic Syndrome
Hypertension
Information Links
Enquiry
Give us some quick information and we'll point you in the right direction.