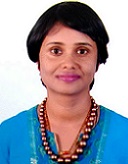 Dr. Bipasha Bose
Yenepoya Research Centre
Yenepoya University
Mangalore, India


Biography
Dr. Bipasha Bose is an Assistant Professor, Yenepoya Research Centre in Yenepoya University, Mangalore, India. She obtained her Ph.D. degree in Applied Biology (Molecular Carcinogenesis) from Advanced Centre for Treatment in Research and Education in Cancer from Tata Memorial Centre, Navi Mumbai, India. She is guiding Ph.D. students in her area of expertise of basic biology of stem cells and stem cell therapy for diabetes, liver diseases and muscle disorder, and also various aspects of ocular stem cells.
Earlier, she has post-PhD research experience working in Stem Cell Biology, in academia and industry in India, Belgium and Singapore. She has contributed to several publications and book chapters as the lead author in the peer-reviewed journals and books of international repute.
Research Interest
Pluripotent stem cells
Adult stem cells such as Muscle derived stem cells
Pluripotent conversion of MDSCs without growth factors or small molecules
Differentiation of PSC into pancreatic beta islets and hepatocytes
Limbal stem cells and its role during UV/bright light induced oxidative stress
Information Links
Enquiry
Give us some quick information and we'll point you in the right direction.