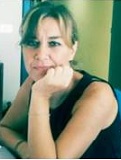 Dr. Anna Maria Giudetti
Department of Biological and Environmental Sciences
University of Salento
Italy


Biography:
Dr. Anna Maria Giudetti is currently working as Researcher in Biochemistry from University of Salento, Italy. She holds her Ph.D in biochemical cellulare e farmacologia cellulare from University of Bari.
She is editorial board member for Journal of Gerontology and Geriatrics. She currently teaching Course of "Scienza dell'Alimentazione" University of Salento, Lecce.
Research Interest
Nutritional and hormonal regulation
Lipid metabolism
Diabetes
Thyroid diseases
Non-alcoholic
Steatohepatitis
Information Links
Enquiry
Give us some quick information and we'll point you in the right direction.