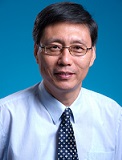 Dr.Zhi-Ling YU
School of Chinese Medicine
Hong Kong Baptist University
China

Biography
Dr. Zhi-Ling YU is currently working as assistant professor at School of Chinese Medicine, Hong Kong Baptist University, Kowoon Tong, Hong Kong, China. He holds PhD in Biochemistry from Hong Kong University of Science and Technology.
He serves as Organizing Committee Member of 3rd International Conference and Exhibition on Pharmacognosy, Phytochemistry & Natural Products. He holds many honorary positions like Organizing Committee Member, Executive Council Member, Associate Director Executive Committee Member. He has publications related to Dermatology.
Dr. Yu is known for his research in herbal pharmacology, focusing on anticancer, anti-inflammation, anti-fatty liver, hepatoprotective and melanogenesis modulating herbs.
Research Interest
Pharmacology
Inflammation
Cancer
Melanoma
Fatty liver
Melanogenesis
Liver protection
Herbal medicine
Information Links
Enquiry
Give us some quick information and we'll point you in the right direction.