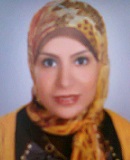 Dr. Ola Ahmed Bakry
Department of Dermatology
Menoufiya University
Egypt

Biography
Dr. Ola Ahmed Bakry is currently working as assistant Professor of Dermatology and Andrology in Menoufiya University, Egypt. She completed masterís degree in Menoufiya University, Faculty of Medicine in Egypt and Diploma in Cutaneous Laser and Dermatologic Surgery in Cairo Faculty of Medicine.
Dr. Ola Ahmed Bakry did many publications in International Journal of Dermatology, Indian Journal of Dermatology, Venereology and Leprology and Indian Dermatology Online Journal.
Research Interest:
Cutaneous neoplasms
Clinical drug trials
Psoriasis
Phototherapy
Information Links
Enquiry
Give us some quick information and we'll point you in the right direction.