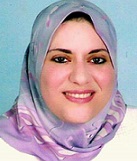 Dr. Hanan Rabea Nada
Department of Dermatology
Cairo University
Egypt


Biography
Dr.Hanan Rabea Nada is Professor in Department of Dermatology, Cairo University in Egypt. She received her MD in Dermatology, cosmetology and laser science from Cairo University, Egypt. She is a Member of the Egyptian Society of Dermatology.
Earlier, she worked as Assistant professor and Lecturer of Dermatology, Dermatology Department, Faculty of Medicine, Cairo University, Egypt. She is serving as an editorial member of reputed journal & expert Reviewers for journals like biomedical science, Medical sciences and Journal of Egyptian Women's society of Dermatology. She has authored many research articles.
Research Interest:
Dermatopathology
Dermatosurgery
Phototherapy
Photo Chemotherapy
Special experience in treatment of vitilgo, psoriasis, and chronic allergy.
Information Links
Enquiry
Give us some quick information and we'll point you in the right direction.