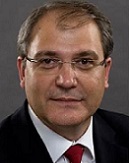 Dr. Diamant Thaci
Comprehensive Center for Inflammation Medicine
University of Luebeck
Germany

Biography
Dr. Diamant Thaci is currently working as head of the centre of Excellence for Inflammation Medicine From University of Lübeck. He holds his faculty of medicine from University of Prishtina, Yugoslavia.
He received Theodor-Stern Foundation Award for excellent clinical research. He is an active member of the Group for Research and Assessment of Psoriasis and Psoriatic Arthritis and the International Psoriasis Council.
He has contributed to Several Original articles like Dermatology and Veneral Diseases, Allergology, Toxicology. Between 2002 and 2015 he was involved in more than 300 clinical trials, and was lead investigator on several national and international multicentre trials in chronic inflammatory skin diseases. He also contributed many books, and also a reviewer.
Research Interest:
His research experience covers Immunology and all stages of clinical drug development.
Information Links
Enquiry
Give us some quick information and we'll lead you in the right direction.