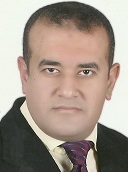 Dr. Ahmed M. Kabel
Department of Pharmacology and Toxicology
Taif University
Saudi Arabia


Biography
Dr. Ahmed M. Kabel is currently working as Assistant professor of Pharmacology and Toxicology, College of Pharmacy, Taif University, Taif, Saudi Arabia. Dr. Ahmed pursued Ph.D. degree in Pharmacology from Faculty of Medicine, Tanta University, Egypt. He is involved in teaching undergraduate and postgraduate students as well as supervised many master and Ph.D. students.
Dr. Ahmed M. Kabel is serving as Editorial board member and Reviewer of various National and International journals. He has published more than 25 research articles in reputable international peer reviewed journals. He is an active speaker and also conducted different workshops.
Research Interest:
Dermatology
Oncology
Pediatric Pharmacology.
Information Links
Enquiry
Give us some quick information and we'll point you in the right direction.