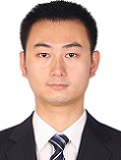 Dr. Xiaoxin Ye
Department of Composite Materials Processing
Osaka Universitys
Japan


Biography
Dr.Xiaoxin Ye (Ph.D) from Department of Composite Materials Processing, Joining and Welding Institute (JWRI), Osaka University, Japan and Department of Materials Science and Engineering, Tsinghua University, China.
My research is currently about electropulsing-assisted processing and characterization of titanium alloy. Electropulsing ultrasonic striking and electropulsing-induced topographical oxidation have been also brought in to modify the materials surface for improving the micro hardness, corrosion resistance and biocompatibility.
Research Interest
Biomedical titanium alloy processing
Surface modification
Biocompatibility property
Green materials processing
Surface coating
Nanomaterials
Energy materials and biomaterials.
Information Links
Enquiry
Give us some quick information and we'll point you in the right direction.