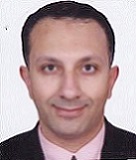 Dr. Waleed Elshahawy
Department of Fixed Prosthodontics
Tanta University
Egypt


Biography
Dr. Elshahawy is currently a full time assistant professor in Department of Fixed Prosthodontics, Faculty of Dentistry, Tanta University in Egypt. He obtained Bachelor of Dental Science (1997) and Master Degree of Conservative Dentistry (2004) from the same faculty. He teached consrvative dentistry for residents and dental students. He pursued his doctoral studies in fixed prosthodontics from Texas A&M University Baylor College of Dentistry and finished PhD degree in Tanta University, in 2011, as a joint project between both dental schools.
Earlier, Dr. Elshahawy obtained American National Board of Dentistry. He was a visiting scientist of Restorative dental sciences in Texas A&M University Baylor College of Dentistry in Dallas for two years. He has authored and reviewed many peer-reviewed articles in various national and international journals of his research expertise. He has authored a chapter "Biocompatibility" in a published book, "Advances in Ceramics".
He has orally presented in many national and international conferences. Meanwhile, he is a board member of Editorial Board of both "Journal of Biotechnology & Biomaterials" and "Tanta Dental Journal", and Research Ethics Committee in Tanta Faculty of Dentistry.
Research Interest
Fixed prosthodontics
Oral Reconstruction/Rehabilitation
Esthetic Dentistry
Implant Dentistry
Ceramics
Information Links
Enquiry
Give us some quick information and we'll point you in the right direction.