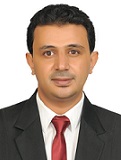 Dr. Waleed Ali Zaqri
Department of Oral and Dental Medicine
Cairo University
Egypt

Biography
Dr. Waleed Ali Zaqri is currently working as consultant in Oral &Maxillofacial Surgery and Head and Neck Oncology. He pursued Doctoral Studies in PhD and MSc in Faculty of Oral and Dental Medicine, Cairo University, Egypt. He completed his BDS in Faculty of Dentistry, Ibb University, Yemen.
Dr. Waleed Ali is a Member of American Heart Association.
Research Interest
Head and Neck Tumors Surgery and Reconstruction
Cleft Surgery (lip&palate)
Temporomandibular joint Disorders
Orthognathic surgery
Oral and Maxillofacial Surgery
Systematic Review
Craniomaxillofacial trauma
Dentofacial Deformity surgery
Information Links
Enquiry
Give us some quick information and we'll point you in the right direction.