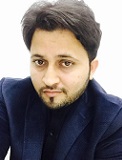 Dr. Saurabh Gupta
Department of Oral & Maxillofacial Surgery and Implantology
Axiss Dental Pvt Ltd
India

Biography
Dr.Saurabh Gupta is currently working in Indian academy of laser dentistry. He holds Masterís Degree at M.R Ambedkar Dental College in Oral & Maxillofacial Surgery and has been in surgical practice since 2014. He is also trained in multiple allied surgical disciplines including Implantology and Laser dentistry. He is also working as a Medical Academic writer & Research Scientist since 2010 at one of the renowned freelancing sites. He has 2 months of working experience as a lecturer in Manipal College of Dental Sciences, Mangalore.
He has published his papers in various National and International journal publications and magazines like Dentistry today, Access, Dent care, Towntrends, etc., He is also an Editorial Board member and associate editor in various journals. He is involved in cosmetic dentistry including smile design. He has attended more than 25 national and international conferences and presented many papers and posters.
Research Interest
Dental Implants
Laser Dentistry
Oral and Maxillofacial Surgery
Oral Disorders
Information Links
Enquiry
Give us some quick information and we'll guide you in the right direction.