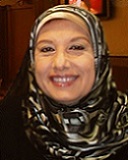 Dr.Mona Ismail Riad
Department of Conservative Dentistry
Cairo University
Egypt


Biography
Dr. Mona Ismail Riad is currently working as Professor in Conservative Dentistry Department, Cairo University since 1998. Earlie she worked as associate professor and lecturer in the same department.
Dr. Mona Ismail Riad pursued her Doctors Degree in Operative Dentistry , Faculty of Oral and Dental Medicine, Cairo University on the thesis title "Effect of corrosion and creep on marginal fracture of amalgam restoration". She is supervising thesis of PhD and Masters degree and also published articles in national and international journal of Dentistry.
Research Interest
Operative Dentistry
Conservative Dentistry
Oral and Dental Medicine

Information Links
Enquiry
Give us some quick information and we'll point you in the right direction.