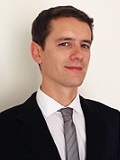 Dr. Daniel Humberto Pozza
Department of Experimental Biology
Faculty of Medicine of Porto
Portugal

Biography
Dr. Daniel Humberto Pozza is currently working as Head and professor of the post-graduation course in Advanced Oral Surgery at 32 Senses Academy, Portugal. Also, Professor of Histology and Embryology at Faculty of Nutrition and Food Science, Portugal. He has completed graduation from Faculty of Dentistry at Pontifical Catholic University of Rio Grande do Sul, Brazil. He pursued PhD in Dentistry at Federal University of Bahia, Salvador, Brazil and Post-Doctoral from Faculty of Medicine of Porto, Portuguese Foundation for Science and Technology.
Daniel Humberto has authored many peer-reviewed articles, and has published nationally and internationally. He is the Winner of International Week of Open Access in the Porto University, Portugal. He has Honorable Mention in the Prize of Pain 2010 for best oral communication. Daniel served as President of the Academic Centre Elias Cirne Lima. He is an Editorial Board member of many International Journals.
Research Interest
Postoperative pain
Orofacial pain
Oral and Maxillofacial Surgery
Pathophysiology of pain
Cancer
Animal models
Embryology
Advanced Oral Surgery
Orthognatic Surgery
Orthodontics
Oral Implantology
Temporomandibular Disorders
Periodontology
Information Links
Enquiry
Give us some quick information and we'll point you in the right direction.