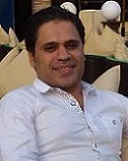 Dr. Ahmed Yaseen
prosthodontics department
IBB University
Yemen


Biography
Dr. Ahmed Yaseen Alqutaibi a lecturer in prosthodontics department, IBB University, Yemen. He completed his Doctoral Studies from Department of Prosthetic dentistry in Cairo University, Egypt.
He has authored scientific articles in peer-reviewed journals including Journal of Evidence-Based Dental Practice, international journal of evidence-based practice for the dental hygienist, International Dental & Medical Journal of Advanced Research.
Research Interest
Evidence based dentistry
Implant Dentistry
Esthetic Dentistry
Operative Dentistry
prosthodontic
Information Links
Enquiry
Give us some quick information and we'll point you in the right direction.