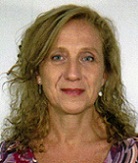 Dr. Ines Adriana Cismondi
Department of Oral Biology
National University of Cordoba
Argentina


Biography
Dr. Ines Adriana Cismondi is Assistant Professor in Department of Oral biology. She pursed her MS Studies in Masters of Biotechnology in National University of Cordoba, Spain and the PhD. Degree in Medicine Faculty- National University of Cordoba. Her Publications in various topics like predoctoral and postdoctoral education. Dental manifestations of rare diseases and impact of the neurodegenerative diseases.
Dr. Cismondi is a standing committee member of Research Office of Dental Faculty at National University of Cordoba.
Research Interest
Rare disease and oral health
Neurodegeneration and oral manifestations
Dental Education
Information Links
Enquiry
Give us some quick information and we'll point you in the right direction.